Only the following users are allowed to edit this article:

If you need to edit this page, contact an administrator first.
1935-1937
Edit
1937-1956
Edit
1956-1959
Edit
1959-1961
Edit
1961-1962
Edit
1962-1981
Edit
RKO Channel
Edit
1981 (pre-launch)
Edit
This article or section lacks a former logo at the moment. You can help Free Dream Logos Wikia by uploading it here. This logo was used on a sign-on promo. This logo is similiar to the 20th Century Fox logo.
1981-1997
Edit
RKO-TV was renamed RKO Channel in 1981.
1987-1997
Edit
This logo was only used for promos end-boards.
1997-2009
Edit
2009-present
Edit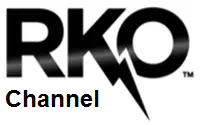 For other related logos and images see: RKO Channel/Other
Ad blocker interference detected!
Wikia is a free-to-use site that makes money from advertising. We have a modified experience for viewers using ad blockers

Wikia is not accessible if you've made further modifications. Remove the custom ad blocker rule(s) and the page will load as expected.